| | |
| --- | --- |
| Please enjoy the following "photo tour" of our breeding philosophy, and sample photos of some of our Ranch's earlier puppies! | |

Our past adopters write us:

Bella is doing wonderfully at eight weeks... she is potty trained, ringing the bell that we have hung from the door knob. She has learned to come, stay, and sit on command. My girls have also taught her how to shake. She is so smart and very eager to please. Every time she comes back in the house after potty, she sits and waits patiently for her treat. We start basic obedience next week. We are having so much fun with her and can't believe she is ours. She comes from great stock...

It's hard to believe that Bella is going to be four in December. She is an amazing dog. We love her so much, and we have you to thank! Our only regret was not bringing two puppies home! —Puppy owner, Atlanta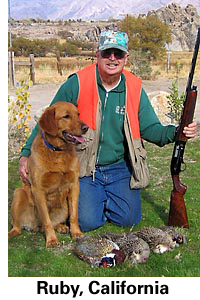 Today was Ruby's first hunt. She did an unbelievable job for a 14-month-old puppy. She jumped and retrieved these four pheasant and just made my day. I have had a few good dogs and some great ones in my life, but Ruby is the best at this age. She is calm and easy to work with.
—Puppy owner, California
My brother and his family brought me along to help them choose a puppy with the best temperament. At the end, I had to tell them, "You can't go wrong with any of these puppies—they all have wonderful personalities."
—A buyer's veterinarian
Kimber is the calmest, most wonderful gentleman you would ever want to see!
—Puppy owner, Virginia
George and Heidi are both potty trained and have willingly accepted being King and Queen of their respective homes. Heidi goes with me wherever I go, and always looks forward to it. We are just absolutely enjoying the heck out of these pups.
—Puppy owner, Phoenix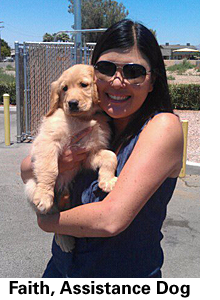 Faith is probably one of the most intelligent dogs I have ever trained. You show her once and she gets it! Yesterday, I was out running errands and was gone for a good four hours… When I got back, she greeted me at the door with my other two Goldens. Needless to say, she knows how to open a crate. Amazing!
—Puppy trainer, Paw Pals Assistance Dogs
You certainly do breed a rare pup! Nash slept all night long. In 24 hours, he has only made two small piddles indoors, and he's already mastered the doggy door. Unbelievable! Opey is thrilled with Nash. He's even letting him play with his dog toys. I was extremely surprised at how well they got along. He's now sleeping at my feet. We couldn't be happier!
—Puppy owner, Goodyear AZ
I hope you're still breeding these puppies when the time comes for me to get another dog, because I want one of yours!
—Wickenburg veterinarian
---
How We Raise Puppies at The Ranch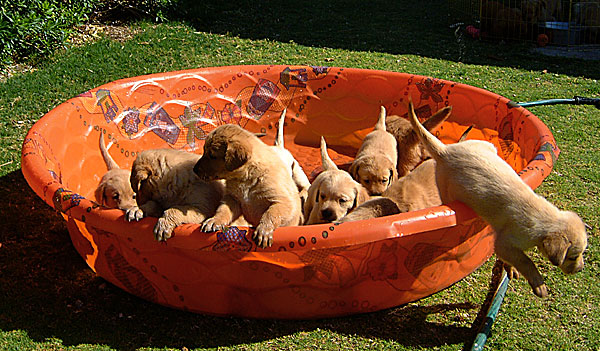 Our puppies enjoying(?) their first wading experience at five weeks.
We breed our puppies with love and personal attention. All our puppies have been raised by our family on our Ranch. Each one has been handled, cuddled, carried around with us, and thoroughly imprinted to be people-oriented. Our puppies are family-friendly and very loyal; hardy and healthy; great swimmers and fetchers; and generally very calm, happy dogs. They have good hunting and retrieving instincts, and with appropriate training would make great hunting companions. Our puppies may be reserved at any age, but we keep our litters with their mother until the age of eight weeks. Our fee includes all appropriate immunizations and vet checks to eight weeks.

Puppies who come of age in warmer months are introduced to swimming in a stress-free manner designed to eliminate fear of the water, promote the puppy's confidence in his own swimming ability, and teach the puppy how and where to exit the pool easily.

We screen our recipient families conscientiously, and try to match them with puppies with the temperament and personality they desire. We observe how our recipient families interact with our puppies. We will not sell or ship a puppy to a buyer we have not gotten to know.

We enjoy keeping in touch with our puppies' owners, hearing about their pets' lives and accomplishments, and receiving photos. Many of our new owners hear about us through word-of-mouth from other satisfied owners. To us, these puppies are extended family. We have matched puppies with new families from California to New Hampshire, and Alaska to Mexico. Buyers traveling long distances can often spend the night right onsite at a Ranch facility, depending on availability.

Our puppies go quickly. If having a choice of coat, color, and personality is important to you, please schedule an early visit to place a deposit on the puppy of your choice. Although we currently have a waiting list for puppies, many folks simply drop off because we can't offer puppies every month; so, if you are interested, please call us today at the number above to reserve your position. New prospective families have a very good chance at any upcoming litter.

Transportation info: Air travelers should be advised that puppies of these breeds are often too large to fit in under-seat carriers by eight weeks, and because of our desert temperatures, airlines departing from Phoenix Sky Harbor will not accept animals in their baggage compartments between (roughly) May and October. We will release puppies at seven weeks to accommodate air travelers, and strongly recommend use of a soft-sided under-seat carrier. Check ahead of time with your chosen airline, because each airline has its own rules, and a few do not accept animals at all.

---
Why We Breed The Mix


A portion of Heidi's litter at five weeks.

We specifically breed this mix of Golden Retriever and Yellow Labrador —America's top two favorite breeds —because we and many other people find them appealing. With shorter coats than a purebred Golden, they require less grooming and shed less.

We have heard the following tale many times over: "We had a mixed Golden Retriever/Yellow Lab for years, and he was the best dog we ever owned. He was smart, gentle, and great with the kids. Recently, we lost him to old age, and the family was really hit hard. Now that we are searching for another dog, we looked all over the web to find anyone who intentionally breeds this mix, and you were the only one we found."

Service-dog agencies are switching to this mix, in search of the particular intelligence, temperament, hybrid vigor, and easier maintenance afforded by these beautiful dogs.
---
Our current breeding female is Annie (Liberty Haven Waggedy Ann), a roughly 50/50 Golden/Lab cross ("Goldador").

At 18 months (born Feb. 14, 2021), Annie still has the boundless energy of youth. She loves toys, swimming, roughhousing with her pack, and RV trips to the woods (where she gets to pretend she's a "wild woof").

Annie is 23" at the shoulder and weighs around 65 pounds. She has a short blonde coat with our line's distinctive white chest-blaze, and a smile of perfect pearly whites.

Annie has a very outgoing personality, and loves everything and everybody. She's even become best playmates with one of our burros!




Bonnie



Annie's dam is Bonnie, born in 2014 to our Luke and Sandy. Our most enthusiastic swimmer, she "dock dives" almost completely across our pool after her favorite ball. At 21" and 65 lbs., she has the longest coat of all our current dogs, in deep fox red, with our trademark white blaze. She is extremely good-natured and obedient, and was a wonderful mother.

Annie's sire is Drake, a papered and certified chocolate Lab from off-Ranch.

Luke, by Fergus out of Tracy (2004-2015) was our second-generation mix: strong, healthy, and playful at 95 pounds, 27" at the shoulder. (That's Luke as a puppy at the top of this page.) He had his dad's fox-red coloring and his mom's Golden-style "feathers" on legs and tail, plus the beautiful white chest blaze that is a constant marker in our line. Like Fergus, he was a "leg-leaner" who loved attention and was very eager to please, and sired many puppies with Sandy, Heidi, and Honey.

Fergus (1997-2011) founded our breedline. He was a strapping 98 pounds (none of it fat), 27" at the shoulder, with a block head and fox-red coloring. Born to pedigreed parents in Massachusetts, he was with us all his life, and travelled cross-country in our RV nine times.



All our adult dogs have been trained for obedience and snake avoidance, and have learned to communicate their needs and wants very effectively.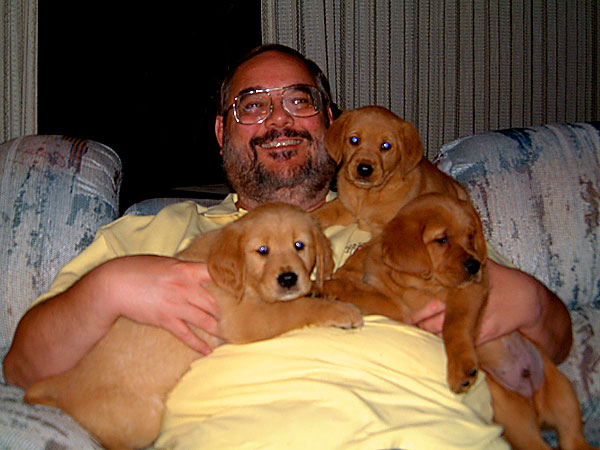 Toby, Sweet Pea, and Kona —Three of Honey's pups at six weeks.